Our rooms are designed to help randomly sort players onto teams!
Our platform automatically assigns your players into rooms & teams in a Game Show - easy! All they have to do is log-in and we will have them randomly assigned to a room & team. Our game rooms are designed to allow up to 25 players in a room & up to 5 players per team.
For example, if it is a full group of 25 players in the game room, we will have 5 teams with 5 players per team!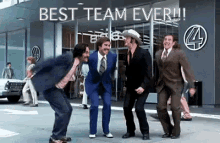 ---
Pre-assign Team Features:
*This features are reserved for our Pro & Premium events. Please connect with your Event Producer if you have an event over 250 attendees as these features do cause a delay to the start of an event. We have alternative game play options to get your group in and gaming!
We offer the feature for you to pre-assign your game rooms & teams with your players signing in via e-mail address. You will need to provide attendee information via a .csv or spreadsheet format (see below for template).
NOTE: This option only works if every player logs in with the correct email. It is imperative that your players all log in with the same email address you provide us (spelling counts!). If players log in with the incorrect email address, they will not be assigned to their room or team, which will cause a delay to the start of your game and/or players being assigned to a different room/team as planned. 😱
Also, if teams only have 1-2 players at the start of the games, we will merge them into other teams (unless specifically requested not to by the event organizer). We do this because we find players enjoy the experience more when at least 2 other teammates. No one wants to play solo!
How to fill out the Pre-Assign Game Room & Teams Template:
First Name & Last Name
Email Address (they will need to log-in with this in order to accurately assign them)
Room - this can be as simple as Room 1, Room 2, Room 3. Remember, each room can host up to 25 players
Team - this can be as simple as Team 1, Team 2, Team 3. Remember, each room can have up to 5 teams of 5 players (if you want players to just be assigned to the Room, and not the Team, you may leave this section blank)
PRO TIP: Make sure you use the same formatting as the template below or else it will not read correctly on our platform. Here is an example: