You can easily schedule and provide details for your virtual event(s) using your Event Manager Dashboard!
To confirm how many credits you have available on your dashboard, on the top right hand corner of your dashboard you will see "X Credits". If you click there, it will open up and show you a bigger breakdown of Credits, and Open Weve Rooms (Open Weve Rooms are available only for Subscribers).
You may also make a new purchase or access your Purchase History:
If you need to purchase additional rooms/credits, you can do this in your dashboard by clicking the red 'New Purchase' button. Click here for an additional explanation!
Click 'See Purchase History' for access to past purchases
Create an Event
Open your Event Manager Dashboard
Click the 'Select Event' dropdown on the left & click the 'Create New Event' OR go to the 'Experiences' tab on your top tool bar.
c. Choose an Experience for your group
Note - If you are a Subscriber, you will have unlimited access to Auto Weves (Virtual Self Hosted)!
Select from the Format options - Virtual
Select from the Host Options - On Screen
Edit from the available Event Details - Attendees, Duration, and date & time
If applicable, select from the available Customization options - Standard, Pro, or Premium

Look at the Quote and use your available 'Credits' & Book Event, pay the dollar amount without credits, or decide to 'Talk To Sales' for more information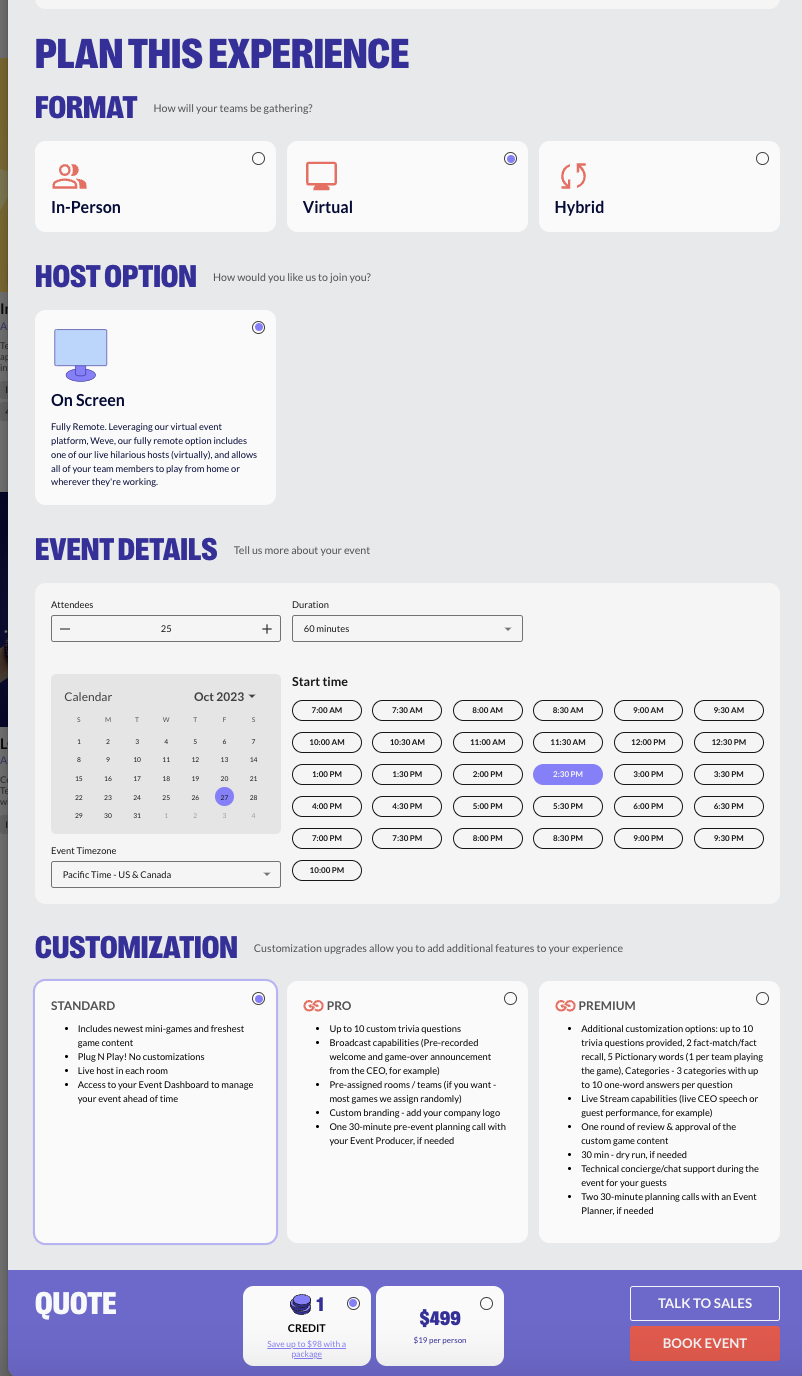 Click 'Book Event', you will now be prompted to tell us more about your event! Let's get started:
Event Details

Under 'Edit Event Details':

Title- you have the option to edit the Title to your event. This will be on the login page of your event.
Number of Rooms- If you need to adjust the number of credits/rooms (1 credit/room can Host up to 25 attendees), you can do so here
Package Level- If you would like to upgrade your event, you can do so here
Attendees- You can edit up to the max allowed number of attendees for your allocated number of rooms. An approximate breakdown of each room will also be shown based on the number of attendees & rooms allocated
Live Tech Support- will automatically toggle on for a Premium Package Level event
Lobby- will automatically toggle on for any event that is (2) or more rooms. For a single-room event, a Lobby is not available.
Under 'Edit Contact Details'

Edit Contact Details - You have the option to include someone else as the contact to be included in the auto emails


Click 'Save'



Scheduling

If you need to reschedule your event, you have the opportunity to do this here. Be sure to select the correct date, time, and timezone before clicking 'Reschedule'. All rescheduling is subject to availability and must be done several days in advance.




Group Details
Tell us if your group has played in the past, if they are international, and more about your group! This information will help your Event Producer ensure the best experience for your group.
Click 'Save & Submit Responses'




Tip: Upon scheduling an event, you have immediate access to the complete login instructions (including the event link) for your attendees. See here for instructions.
Tip: Look for the green "Event is Ready to Run" message on the left, and 3 green 'Complete' indications for each step. This ensures we have the required information to produce your event!