You can easily schedule and provide details for your event(s) using your Event Manager Dashboard!
To confirm how many rooms you have available on your dashboard, check the top right hand corner where it will say 'Hosted', 'Auto', and 'Open' (Auto and Open rooms will be available to use if you have a Weve+ Subscription). You may also have Pro/Premium upgrades available to upgrade any Hosted event. If you are a Weve+ Subscriber, all of your Hosted events will automatically be Pro level.
If you click the dropdown, you will have access to Purchasing more rooms & upgrades & your Purchase History
If you need to purchase additional rooms, you can do this in your dashboard by clicking the yellow 'Purchase Rooms & Upgrades' button. Click here for additional explanation!
Click 'See Purchase History' for access to past purchases

Each purchase will be listed as a Pack
Unallocated means those are your unused rooms
Allocated means they are allocated to a scheduled or unscheduled event
Used means the rooms were allocated to a scheduled event in the past
Create an Event
Open your Event Manager Dashboard
Click the 'Select Event' dropdown on the left
Click the 'Create New Event'
Choose an experience for your group under 'Hosted' or 'Auto' (Auto for Weve+ Subscribers)
Click 'Book Event'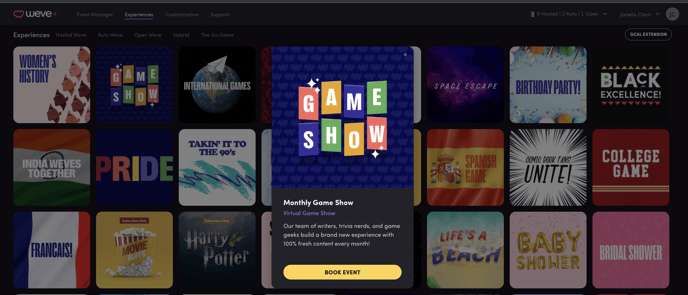 Event Details

Under 'Edit Event Details':

Enter a new event title (optional)
Add the appropriate number of rooms (1 room can Host up to 25 attendees) if you have rooms available to allocate
Upgrade your Package Level if you have upgrades available to allocate
Live Tech Support will automatically toggle on for a Premium level event
The Lobby will automatically toggle on for any event that is (2) or more rooms. For a single room event, a Lobby is not available.

Under 'Edit Contact Details'

You can Edit Contact Details if you would like to include someone else as the contact

Click 'Save & Continue'



Scheduling

Select a month, date, timezone, and time based on our real-time availability
Click 'Save & Continue'




Group Details
Tell us if your group has played in the past, if they are international, and more about your group! This information will help your Event Producer ensure the best experience for your group.
Click 'Save & Submit Responses'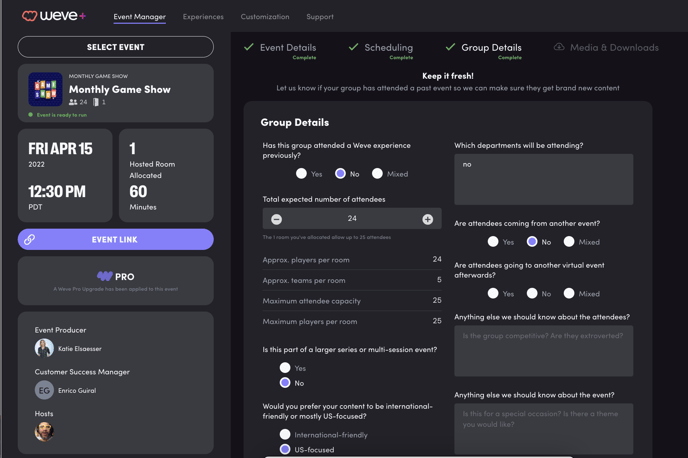 Tip: Upon scheduling an event, you have immediate access to the complete login instructions (including the event link) for your attendees. See here for instructions.
Tip: Look for the green "Event is Ready to Run" message on the left, and 3 ✅ for each step. This ensures we have the required information to produce your event!