With an upgraded package, we have some great options for you to address your group!
We include great videos to welcome and onboard attendees in your Weve Lobby. If you'd like to personalize this experience, you can create custom auto-play announcement video(s).
We recommend using this feature because it will guarantee every player can see the video live as soon as they enter the Lobby. *This feature is reserved for our Pro & Premium level packages.
Main things to keep in mind when shooting the video(s):
Keep the video short - no more than a couple of minutes. 30-second videos work great!
Shoot in LANDSCAPE orientation, not portrait (HORIZONTAL not vertical).
Center the speaker top-to-bottom and ensure they are not too close to the camera.
We recommend not including text in the video as it will be difficult to see.
Best practices and reminders when providing announcement video(s):
The video(s) must be in MP4 format.
You can email the video(s) to your Event Producer, or use https://wetransfer.com/ at least 5 business days prior to your event.
Please clearly label videos if submitting more than one, and provide clear instructions of when you envision each video playing.
Results when providing announcement video(s):
In terms of framing, the video(s) should roughly look like the below example.
The video(s) will play in the middle of the video player pop-out of the Weve Lobby.
A video can be made to automatically play when attendees log onto the platform, and/or at pre-designated times during the event, as designated when you submit the video(s).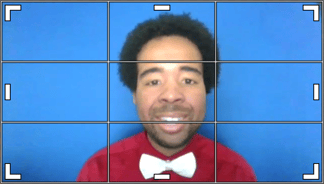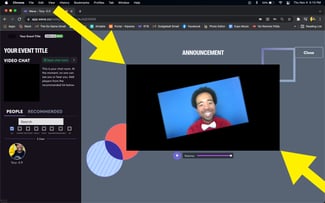 We also have the option for a live broadcast directly to the Lobby! This is great for announcing awards or broadcasting a raffle. Since we are at the mercy of technology, there may be some technical delays encountered when using this feature. Please discuss this option with your Event Producer for planning.*This feature is reserved for our Premium level packages.
How broadcasting works:
Please share the name(s) of the Speaker(s) and/or how they would like to be referred to.
We ask that your speaker logs in 5-10 minutes early to go through the onboarding process to ensure their webcam and headphones are working properly.
Once they are in the Lobby, your Event Producer will instruct your Speaker on what to expect
When we are ready to roll, the speaker will be live in the Lobby, broadcasting to everyone. When broadcasting, the speaker will only be able to see and hear themselves - they will not be able to see or hear the other participants in the Lobby like you would in a Zoom call, for example.
Once the speaker is done, the live broadcast will be over and the Speaker will join the rest of the participants in the Lobby.